ישראל בן מנחם מנדל
Irving Kamil
Apr 26, 2013 ט"ז אייר תשע"ג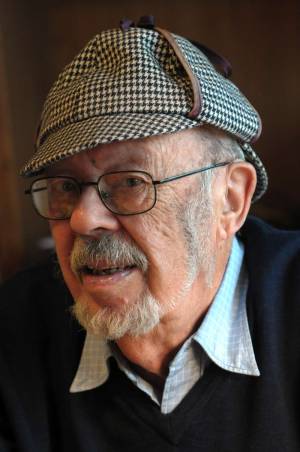 From Rabbi Engelmayer's eulogy:
"How often have I said to you," said Sherlock Holmes to Dr. Watson, "that when you have eliminated the impossible, whatever remains, however improbable, must be the truth?"
We meet to celebrate the life of Irving Kamil, not to mourn his passing. This is a time to remember his wisdom and his goodness, and how he blessed our lives with his.
This is a time to be grateful for a principled principal, a person who sought justice for all, even if it meant bucking the powers that be; a person who labored for a world in which every child could grow into an educated adult with the tools he or she would need to reach his or her highest good.
This is a time to remind ourselves that when a man of stature and substance enters our midst, life has given more than death can ever take away.
Irving was such a man—and he was that to the very end, and we remember gratefully the courage and faith and love that he demonstrated even in these last weeks. Cancer could destroy his body and his mind, but it could not break his spirit. His pride was in the family he and Selma raised, and in the spirit he helped instill in his children and grandchildren.
Irving taught us that in the midst of trouble and pain we can still smile, not to mention laugh with such a fullness of genuine joy. He taught us that the abundant life is not a life abundant in material things, but in the spiritual.
Irving Kamil taught us that we should seek our happiness not in what we may get for ourselves, but in what we should and must share with others.
The basics of his life were summed up in his obituary: He served in the New York City school system for 41 years, retiring 23 years ago.
He was a graduate of Townsend Harris high school; he was drafted into the army just before entering his final semester at City College; he managed to get himself into the Navy instead; came back and completed his college education at Central Methodist College in Missouri. He earned a Masters degree from Columbia University Teachers College.
He served as president of our synagogue, as well as an officer and in many other capacities.
He served on the Cliffside Park Board of Education for nine years and was its president for a while.
But "summed up" doesn't always suffice. There are always things hidden between the lines. As Holmes would say, "the little things are infinitely the most important" and they're buried in that obit. So let's briefly elaborate on some of those little things.
For example, "He was a graduate of Townsend Harris high school," which was in Brooklyn, by the way. It was an exclusive school—and it went out of business right after Irving graduated. I'd like to think that it was because they knew they couldn't possibly ever find a graduate like Irv again.
He was drafted into the army, but he went into the navy, where he spent a whole lot of time in a classroom in Chicago, learning everything he needed to know to be a radar technician—only to have the war end and he was mustered out.
Back in civilian life, the obit tells us he "completed his college education at Central Methodist College in Missouri." What it doesn't tell us is why. He was on a reconnaissance mission for his mother. You see, Methodist is where Phil went to school, and Mrs. Kamil sent Irv there to keep an eye on his younger brother.
The obit tells us he was in the city school system for 41 years, but it doesn't tell us how he stood up to authority when principle and basic human dignity were at stake.
For a while, Irv was principal of a school in Harlem. Now, you have to understand something. A lot of people say they're color-blind, but Irv truly was. All he saw in his school were children needing equal opportunities to learn. So when the city asked him and other principals to fill out a census form detailing how many black children there were in his school and how many white ones, he refused to fill it out. He didn't know from black and white. He only knew from children needing the best education he could help provide them.
He loved Selma; he loved his children and grandchildren; he loved his brother. He loved his shul. He loved his community. He loved people, period.
And he loved the residents of the Georgian Terrace apartment at 221 B Baker Street, London NW1.
"Holmes is unique," Irv told The Record in a 2011 interview. Je was a founder of a Sherlock Holmes fan society known as Mrs. Hudson's Cliffdwellers. The Cliffdwellers, named for Holmes' landlady at 221B Baker St., is an offshoot of another Sherlockian society, the Baker Street Irregulars, founded by the writer Christopher Morley in the 1930s.
Irv also belonged to the Baker Street Irregulars, as his certificate attests:
"This is to certify that Irving Kamil, having passed all the tests prescribed by the constitution and bylaws of the society, is hereby declared a full participating member of the Baker Street Irregulars, under the authenticated, titular investiture of M. Oscar Meunier of Grenoble, and is authorized in the purlieus of the Sherlockian world."