יעקב זלמן בן יצחק
Dr. Jerry Finkelstein
Dec 10, 2016 י' כסלו תשע"ז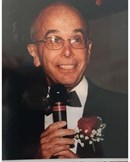 April 28, 1938 - December 10, 2016 Dr. Jerry Z. Finklestein, beloved husband, father, father-in-law, grandfather, brother, brother-in-law, uncle, great-uncle, cousin and friend, passed away peacefully at home on Saturday, December 10, 2016 with his loving family by his side.
Born in Montreal, Quebec, Canada to the late Rose and Dr. Charles Finklestein, Jerry graduated medical school from McGill University in 1963. Jerry moved to Los Angeles, in 1966, where he completed his post-doctoral training in hematology and oncology at Children's Hospital of Los Angeles. He was deeply committed to his family, as demonstrated by his constant love and devotion to Marilyn (Solowey), his beloved wife of 50 years, and to their cherished daughters Kim, and her fiancé Craig Eisenberg, and Dr. Deborah and her husband Eran Conforty. Jerry was a loving Papa to his treasured grandsons Itai, Matan, and Ariel Conforty, and Aaron Finklestein-Lotzof.
Jerry had a special relationship with his dear sister Butsie Ross-Walfish (Elissa Finklestein) and was an adored brother-in-law of Gerald and the late Sharon Gold, and Dr. David, the late Joanne Shapiro, Susie Solowey, and Denis Wanamaker; the late Melvin Ross; and the late Harold Walfish.
Jerry was a revered role model to his many nephews, nieces, great-nephews, great-nieces and cousins. His heart and soul were dedicated to his professional calling as a pediatric hematologist-oncologist. An esteemed physician, prestigious researcher, and respected colleague and mentor, he had a profound impact in the field of children's cancer, serving as founding Medical Director of the Jonathan Jaques Children's Cancer Center at Miller Children's Hospital, Long Beach Memorial Medical Center in 1973, where he remained until his retirement in 2015.
Among his many distinguished positions and appointments, Jerry was Clinical Professor Emeritus of Pediatrics at UCLA School of Medicine, Emeritus Staff and Honorary Staff at Children's Hospital of Los Angeles and Cedars Sinai Medical Center in Los Angeles, and he served on the Executive Committee, Medical Advisory Board, Board of Trustees or Editorial Board of countless medical societies, professional associations, and foundations. Jerry's passion for "Tikkun Olam," improving the world around him, curing disease and alleviating the suffering of those in pain, together with his countless everyday acts of kindness, will forever continue to be a source of inspiration and guidance for everyone whose lives he touched.
The funeral service was held on Tuesday, December 13, 2016, at 11:00 a.m. at Congregation Ner Tamid, 2751 Crestridge Road, Rolling Hills Estates 90275, followed by burial at Green Hills Memorial Park, 27501 South Western Avenue, Rancho Palos Verdes 90275. Donations in Jerry's memory may be made to Jonathan Jaques Children's Cancer Center by contacting Annie Santos at asantos@memorialcare.org or (562) 933-8609.
Published in the Los Angeles Times from Dec. 12 to Dec. 13, 2016